Karina Johnston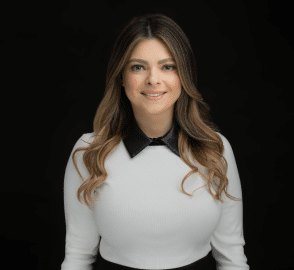 Karina Johnston is an invaluable office manager of our firm. Karina brings a unique blend of expertise, dedication, and a warm, welcoming demeanor to her role. Fluent in Russian, she adds a multicultural dimension to our team, allowing for seamless communication and understanding with a broader range of clients and colleagues.
In both her personal and professional life, Karina embodies the essence of commitment and love. She married her high school sweetheart, a beautiful testament to enduring love and dedication. Karina finds joy in traveling, exploring new places, and immersing herself in different cultures. However, at the heart of her happiness is spending quality time with her family, cherishing every moment with her two children and beloved dog.
As an office manager, Karina's meticulous attention to detail and organizational skills keep our operations running smoothly. Her dedication to creating a harmonious work environment fosters teamwork and efficiency. Karina's ability to balance her responsibilities at work and her love for her family is a true inspiration. Her journey as an office manager exemplifies how passion and dedication can be seamlessly integrated into both personal and professional spheres, making her an essential asset to our firm.