Lori Gjoka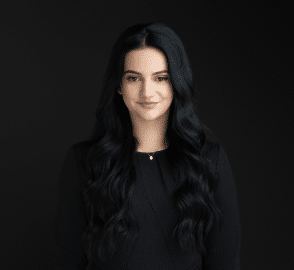 Lori Gjoka is a remarkable litigation paralegal within our firm. Lori embodies a spirit of diversity and connection, being fluent in both Greek and Albanian. This linguistic talent allows her to seamlessly communicate with a broader range of clients and enriches the fabric of our team.
In her personal life, Lori recently entered the beautiful journey of marriage as a newlywed. Her love for her family and friends knows no bounds, and she thrives on the joy of spending quality time with them. Additionally, Lori finds immense happiness in the great outdoors, often accompanied by her beloved puppy. Whether it's a leisurely walk, a refreshing hike, or simply enjoying the beauty of nature, being outside rejuvenates her spirit.
As a litigation paralegal, Lori combines her linguistic skills and passion for law to support our clients in navigating the legal landscape. Her dedication, empathy, and ability to foster strong relationships make her an indispensable part of our team. Lori's life reflects the harmony of love, diversity, and professional excellence, a testament to her character both within and beyond the legal realm.